Postgrad student steps up to help NHS frontline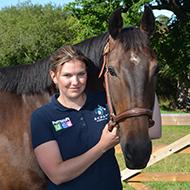 Fiona Bloom provided triage for potential COVID-19 cases.

A Hartpury University postgraduate student has been recognised for going above and beyond the call of duty, by applying her skills to human patients suspected of COVID-19.

Fiona Bloom is studying for a PhD in lameness in endurance horses to promote welfare, longevity and competitive success. She was formally employed as a specialist respiratory physiotherapist, before setting up her own veterinary physiotherapy business.

When the pandemic struck, Fiona felt "a moral and ethical obligation to help", so she volunteered to provide triage for potential COVID-19 cases, and overnight support to COVID-19 patients with respiratory distress and ventilated patients.

"To sit back and watch a crisis when you have the skills to assist goes against our moral compass," she said. "I have previous clinical expertise in respiratory, so there was no question about whether I should offer my services or not.
"The true frontline staff and acute hospitals coped admirably and I wasn't needed within the hospitals. However, I have experience and still work with individuals with long-term disabilities and complex care needs, so my input to these individuals increased dramatically to seven days a week with the aim of admission avoidance, as hospitalisation of some of these high-risk individuals during a pandemic would almost certainly be fatal."

Fiona added that many of the patients she was working with did not fully comprehend why their relatives were not able to visit, or why the staff were wearing full PPE.

"It is important to make them feel safe and continue to be as normal as possible," she said. "It was very busy but, of course, I'm ready to assist again should it be necessary."

Fiona is physiotherapist to the GB Young Rider squad and is employed by Fitzpatrick Referrals two days a week as a veterinary physiotherapist. She is currently working with welfare committee of Endurance GB to improve the welfare of horses used in sport.

Dr Stephen Draper, dean of research and knowledge exchange at Hartpury University, commented: "Fiona has made an incredible contribution to the NHS during the pandemic and is a credit to Hartpury."