WVS launches equine training course for veterinary students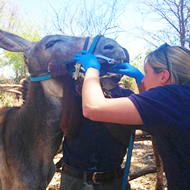 Course designed to support national shortage of practical placements.

A five-day crash course in equine ambulatory essentials is being launched by veterinary charity Worldwide Veterinary Services (WVS) in collaboration with the Homing Ex-Racehorses Organisation Scheme (HEROS).

The course, based in Wantage, Oxfordshire, aims to support veterinary students facing a national shortage of practical placements in equine care, as a result of the coronavirus pandemic. It will run throughout the year, with training based around how WVS delivers equine care abroad.

Students will learn how to overcome obstacles such as a lack of equipment and a shortage of consumables. Experienced equine clinicians will also guide students through a variety of cases, where participants will gain practical hands-on experience in triage, treatment and management.

"Attendees should expect to deal with all types of scenarios and emergencies – from wound and colic care to lameness cases and other common scenarios seen on ambulatory clinics," explained Dr Francesca Compostella, international project director for WVS and course director. "This course will be an unforgettable experience for any vet – students or graduate – willing to gain practical experience and a deeper understanding of all aspects of working abroad."

The course will be situated at HEROS North Stud Farm - home to more than 120 horses, including rescues, athletes and geriatric. It is suited to veterinary students from their third year upwards, as well as new veterinary graduates or veterinarians seeking a change of specialities.

"We have been taking veterinary students for handling and work experience for over 15 years, and are therefore thrilled to partner with WVS in this new venture," commented Grace Muir, CEO for HEROS.
"This course will provide essential training at HEROS Charity for young vets. The horses we get presented with are so diverse, that participants will gain a widespread view of many different ailments and emergencies which will allow them to gain quality knowledge and experience."

For more information about the course and to sign up, visit wvs.org.uk/training
Image (C) WVS.