UK's first feline-only eye clinic set to launch in London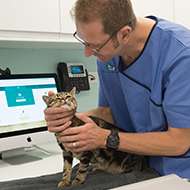 Service marks "exciting new chapter" for the London Cat Clinic.

The UK's first dedicated feline-only ophthalmology clinic is set to launch in London.

The facility will be based at the London Cat Clinic, a recipient of several awards, including a 'Gold Standard Cat-Friendly Clinic' by the International Society of Feline Medicine.

It will be led by renowned ophthalmologist Dr Ursula Dietrich, who is stepping down from her role as a senior lecturer in veterinary ophthalmology at the RVC.

Dr Dietrich said: "I am thrilled to take on this new role, heading up The London Cat Clinic's new ophthalmology centre. The clinic is doing wonderful things in feline veterinary care as the largest specialist practice devoted solely to cats in the UK.
"The ophthalmology service is the next exciting development in achieving our goal of being a centre of excellence in feline veterinary medicine."

The ophthalmology service will launch in September alongside a new emergency service for registered clients and 24/7 round the clock care for hospital inpatients.

Dr Jeremy Campbell, founder of the London Cat Clinic, said: "We are delighted to welcome Dr Dietrich to the team, as she brings with her a wealth of experience in the field of feline ophthalmology. She will be a wonderful asset to The London Cat Clinic, as we embark on an exciting new chapter."
Image (C) The London Cat Clinic.