New study classifies congenital birth defects in various dog breeds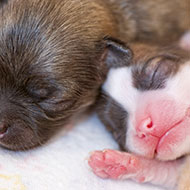 Research marks an important step in the diagnosis and treatment of portosystemic shunts.

The Royal Veterinary College (RVC) has published a new study into the classification of congenital birth defects that occur in various dog breeds.

Writing in the journal Veterinary Radiology and Ultrasound, researchers provide the exact characterisation of congenital intrahepatic portosystemic shunts (IHPSS) in dogs, which has historically lacked a complete anatomical overview. Researchers hoped that the findings will aid in the diagnosis of IHPSS and lead to the development of new treatments.

Dr Randi Drees, associate professor in veterinary diagnostic Imaging at the RVC, said: "The newly introduced classification of the IHPSS based on the individual hepatic venous structure that it inserts through will likely be more reliable than the historical global classification system, as it relies on given anatomical structures that can be investigated with advanced imaging modalities such as angiographic computed tomography, illustrating the deficiencies of the traditional approach."
She added: "We expect the results of this study to change the way radiologists report these birth defects, and therefore optimise communication with the surgeons, improving overall patient care."

The research was conducted at the Royal Veterinary College's (RVC) Queen Mother Hospital for Animals in collaboration with the School of Veterinary Medicine in Davis; the University of Tennessee Small Animal Hospital; and the College of Veterinary Medicine in Georgia.