Professor honoured for exceptional contributions to animal wefare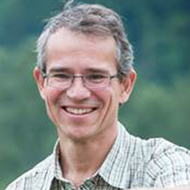 Professor Daniel Weary awarded prestigious UFAW Medal.

University of British Columbia Professor Daniel Weary has been named winner of the UFAW Medal for Outstanding Contributions to Animal Welfare Science.

The UFAW Medal pays recognition to individual scientists who have made exceptional contributions to the advancement of animal welfare over several years. The award is open to individuals across the globe whose research, teaching, service and advocacy have significantly benefited animal welfare.

Professor Weary's 30-year career has sought to understand and improve the welfare of animals, including dairy cattle and laboratory rodents, using non-invasive methods.

He has contributed to more than 260 peer-reviewed publications, received three prominent international awards for scholarship and research impact, and has delivered numerous, distinguished named lectures across the world.

Georgia Mason, Professor of Animal Welfare at the University of Guelph, Canada, who nominated Professor Weary for the award, said: "For a field where true impact means changing how people treat animals, Dan's work has improved the lives of millions of animals.

"In particular, thanks to his meticulous research using specific vocalisations and other carefully-validated indicators of pain and hunger, Canadian dairy calves are now typically fed to satiety, instead of left hungry as had been the industry norm, and they also now receive pain relief when their horn buds are cut or burnt away.

"The tails of millions of cows are now left on, instead of cut off. His work with Lee Niel has also led to a recognition of the inhumanness of carbon dioxide as a killing method for laboratory rodents".

Professor Weary has also been highly influential as a teacher and trainer. He has advised 25 PhD students, many of whom are now themselves leaders in animal welfare science and policy. His undergraduate teaching has also won recognition through the Humane Society International Award, a Killam Teaching Prize and a Killam Research Prize.

Fellow nominator Ed Pajor, Professor of Animal Welfare at the University of Calgary added: "I consider Dr Weary to be among the top one per cent of animal welfare scientists in the world and am thrilled that he has been nominated for such a prestigious award. Even more remarkable than his productivity and impact is the wide range of scientific topics he has addressed and the methodology that he has either used or developed".

Professor Weary received the commemorative medal and award during UFAW's Recent Advances in Animal Welfare Science VII virtual webinar on the 30 June, attended by some 1,000 delegates.
Image (C) UFAW.