Clinicians sought for research into kidney injury following general anaesthesia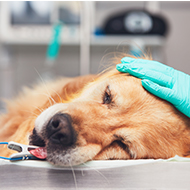 Vets with similar experiences in the last 24 months urged to get in touch with authors.
Clinicians with experience in acute canine kidney injury following general anaesthesia are being sought to help further research published in the Journal of Small Animal Practice (JSAP).

In the study, researchers attempted to characterise common factors after a suspected increase in the incidence of post-procedure acute kidney injury in animals without identifiable risk factors.

The team analysed the medical records of 12 dogs that presented for acute kidney injury following general anaesthesia across three multidisciplinary referral centres and one primary care practice in the UK. Information obtained included signalment, general anaesthesia, surgical procedure and peri-surgical management.

"A suspicion that there was an increase in non-geriatric dogs suffering acute kidney injury (AKI) shortly after elective procedures led to this study," commented Emma Rogers-Smith, a resident in internal medicine at Davies Veterinary Specialists and corresponding author for the paper.

"Whilst our data supported this suspicion, there was an increase in incidence, the change itself is not statistically significant and so we are unable to be conclusive.

"This study is limited by small sample size and retrospective nature of the data. At this time no definitive causal link between these cases has been found. As such, we are urging clinicians with similar experiences in the last 24 months to get in touch. We hope to ascertain if there is any commonality between these cases and, if possible, better define the incidence of AKI in non-geriatric animals following elective procedures."

JSAP editor, Nick Jeffery, concluded: "Nowadays, most veterinarians consider general anaesthesia safe in dogs and routinely allay pet-owner concerns. Whilst AKI following general anaesthesia seems to be rare, it is worrying that a specific risk factor was not identified in any dog, despite a wealth of available clinical data. I would urge any veterinarians that have similar cases to contact the authors."

Clinicians with similar experiences during the last 24 months should contact Emma Rogers-Smith on emma.rogers-smith@vetspecialists.co.uk.