Boehringer's classical swine fever live vaccine approved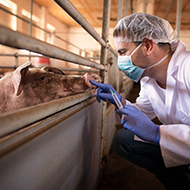 Vaccine will play a vital role in eradicating the disease in China.
The first classical swine fever (CSF) live vaccine, jointly developed by Boehringer Ingelheim and Chinese research institutes, has received marketing approval.

The newly-approved Ingelvac CSF MLV is set to provide China's swine industry with breakthrough immunization programmes and support disease solutions. It will also play a vital role in eradicating CSF in the country.

CSF is a highly contagious, lethal disease that has caused huge economic losses to China's pig farming industry. While the outbreak is now effectively controlled by mass vaccination with CSF live vaccine, endemic and sporadic spread remains.

Existing CSF live vaccines can only be stored at -15℃ for 18 months, with strict temperature control requires for transportation, storage and dilution. The new vaccine uses state-of-the-art suspension culture and freeze-drying technologies to ensure stable vaccine production process, and controllable quality. It can be stored at 2-8℃ for 24 months.

In a press release, a Boehringer spokesperson said the vaccine ' marks another milestone for Boehringer Ingelheim's "in China, for China", as the company is committed to providing innovative and high-quality swine vaccines for the Chinese swine industry, as well as holistic swine disease solutions to pig farms.'

Ingelvac® CSF MLV will be produced by Boehringer Ingelheim's Taizhou plant and is expected to be commercialised in early 2021.