New treatment to tackle red mite in backyard poultry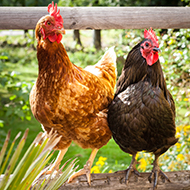 Treatment is administered through drinking water and has a zero-day withdrawal period for eggs.
A new treatment for red mite infestation in backyard poultry has been launched by MSD Animal Health.

The new Exzolt 50ml treatment is described as 'an extremely effective parasiticide for red mite infestation in commercial laying units'. It uses the same formula and active ingredient (fluralaner) as Exzolt but is now available in a smaller dosage bottle for distribution to backyard flocks.

"Many of the effective red mite treatments used in commercial poultry are not available to pet chicken owners which can make it very difficult to protect smaller flocks from severe infestations," explains Steve Smith, EBVS® European Veterinary Specialist in Avian Medicine and Surgery. "However, this new presentation of EXZOLT® is now available to help tackle one of the most challenging diseases facing chicken owners.

"The treatment is easily administered through the drinking water, has a zero-day withdrawal period for eggs, and kills red mite at nymph and adult phases of the lifecycle which means it is more likely to clear the infestation, rather than only tackling adult mites."

EXZOLT® 50ml has a one year broached shelf life, meaning that vets can prescribe treatment for just one chicken upwards. It also focusses on treating the chickens rather than the living environment.

"Using environmental controls can often make it difficult to locate and target all mites in order to get the results you want," adds Steve. "As EXZOLT® 50ml is proven to have a high level of kill for 15 days post-treatment, control of red mite is likely to be far more effective. This is because it treats the chickens meaning all active feeding parasites are exposed to treatment, whereas environmental controls only provide a superficial level of treatment."

From Monday 29 June, there will be a series of CPD accredited webinars to support vets who are seeing pet chickens in practice. These will include expert advice on how to spot and treat common poultry diseases, practical advice when carrying out clinical examinations, and the importance of preventive health care.

Vets wishing to find out more, and to register for the webinar series, are urged to contact their local MSD Animal Health UK representative.