BVNA announces virtual weekend of celebration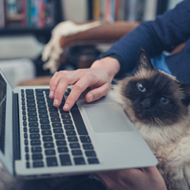 'This is Us 2020' takes place 9-11 October.
The BVNA has announced a packed weekend of online activities to celebrate the organisation and the veterinary nursing profession as a whole.

'This is Us 2020' kicks off at lunchtime on Friday 9 October and features an exciting line-up of keynote speakers, special guests and interviews with key industry influencers. There will also be a special BVNA awards evening and delegates can participate in 'live' interactive workshops, quizzes, competitions and games.

The news follows the announcement that the 47th BVNA Congress will not be taking place this year due to the coronavirus pandemic. Thousands of BVNA members will be invited to attend for free, along with delegates from the wider veterinary community both in the UK and Internationally.

"I am so thrilled that we are providing an online event which invites all veterinary professionals to join us in celebrating the veterinary nursing profession," commented BVA president Jo Hinde. "This unique weekend will be packed full of inspiration and fun – just what we need to lift our spirits during these difficult times.

"I know just how important our normal Congress is for the BVNA 'family' to get together with old friends and new and I really wanted to try to capture this party spirit to go hand in hand with providing some excellent interactive CPD, the chance to hear from some of our industries most revered individuals and of course the glittering Awards Night where we will be highlighting an array of amazing individuals that go above and beyond. So make sure you pop the date in your diary and I look forward to seeing you there!"

BVNA This Is Us 2020 takes place on 9 – 11 October.