Zoos and safari parks in England set to reopen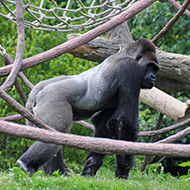 Reopening 'by no means an easy fix' warns ZSL London Zoo.

The Government has announced the reopening of zoos and safari parks in England from Monday (15 June).

Prime Minister Boris Johnson stated that the attractions could reopen again, as long as inside exhibitions remain closed and that social distancing measures are adhered to.

The announcement follows fears that some zoos may not survive if lockdown continued into the summer months, and that animals may even need to be euthanised.

A Number 10 spokesperson commented: "People are continuing to make huge sacrifices to reduce the spread of coronavirus and avoid a second spike, but we know it is tough and where we can safely open up more attractions, and it is supported by the science, we will do so.

"This is by necessity a careful process, but we hope the reopening of safari parks and zoos will help provide families with more options to spend time outdoors, while supporting the industry caring for these incredible animals."

The Government had previously stated that wildlife parks and zoos must remain closed for the foreseeable future. But extensive campaigning, supported by local councils and MPs, forced a U-turn on that position.

Welcoming the news, Kathryn England ZSL London Zoo's chief operating officer, said: "We're delighted that we can once again welcome visitors to ZSL London Zoo. We've gone to great lengths to make the Zoo a welcoming and safe space for people to visit, including installing additional hand sanitation points and creating colourful one-way wildlife walks across our 36-acre grounds - ensuring visitors can experience the natural world while observing social distancing.

"After weeks of behind-the-scenes work - painting route markers and putting up more than 2,000 new directions and signs - we're looking forward to connecting people with nature again, a mission that has been the beating heart of ZSL for nearly 200 years."

But although the news is cause for celebration, ZSL stressed that it does not mark the end of their fundraising efforts. The increased safety measures will mean that London Zoo will be offering pre-allocated, timed entry slots, limited to just 2,000 visitors a day - well below the numbers needed to recoup the charity's costs.

Director general Dominic Jermey said: "Reopening is an important step towards securing ZSL's future but is by no means an instant fix. We rely heavily on zoo ticket sales to fund our vital conservation work, and after months of enforced closure we still urgently need support.

"We battened down the hatches to weather the storm - furloughing staff and cutting costs wherever possible - but our animals, many of which are threatened in the wild, need the same outstanding level of animal care whether we are open or closed."
His words were echoed by Dr Christoph Schwitzer, chair of the British and Irish Association of Zoos and Aquariums (BIAZA), who added that members in other nations remain under lockdown.
"We will continue to make our case across the nations as well as pushing for urgent financial aid to be made available from Governments. We are not out of the woods yet," he said.