Tributes paid to Professor Michael Day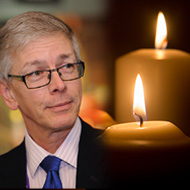 Professor Day was recently awarded the WSAVA Award for Global Meritorious Service.
Tributes have been paid to Emeritus Professor Michael Day who has sadly passed away.

A statement released by the Federation of European Companion Animal Veterinary Associations (FECAVA) reads: 'The veterinary community lost a powerful voice and we lost a close friend. Dear Michael J. Day, your work will resonate and you will stay in our hearts forever. Thank you for being part of our lives.'

Professor Day was recently awarded the WSAVA Award for Global Meritorious Service in recognition of his outstanding contribution to the understanding of immunology and vaccination.

'RIP Professor Michael Day. Michael made such a big contribution to veterinary science on a global level and he was always a pleasure to work or talk with. He was taken far too soon. Our thoughts are with his family,' wrote Professor John Innes on Twitter.

'We're really sorry to hear of the loss of such a respected and popular member of the global veterinary community,' added the BVA. 'Our thoughts are with his family and friends.'

RCVS President Niall Connell wrote: 'Very sad news indeed. I met Michael once briefly in 2013 at BSAVA Scottish Congress when he was @thebsava President. A very nice man. My sincere condolences to his family and friends for their sad loss.'

Professor Day began working with the WSAVA in 2003, holding a range of roles including membership of the Gastrointestinal Standardization Group and Chair of the Scientific Advisory Committee. He was chair of the WSAVA's Vaccination Guidelines Group from 2009 until March 2020, when ill-health necessitated his stepping down.

The inaugural vice-president of the WSAVA Foundation, Professor Day helped to develop and lead its Pioneering African Small Companion Animal Network (AFSCAN) project. He also chaired the BSAVA Scientific and Education Committees and served as BSAVA President in 2013-2014.