Scientists map genome of healthy German shepherd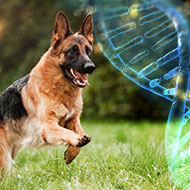 Tool will allow researchers to determine whether dogs are likely to develop hip dysplasia

Researchers have mapped the entire genome of a healthy German shepherd, giving vets a powerful tool with which to better screen for hip dysplasia and other canine diseases.

Scientists from the University of New South Wales (UNSW) and other institutes used advanced genome sequencing technology to unravel 38 pairs of dog chromosomes, to decode the 19,000 genes and 2.8 billion pairs of DNA.

The study was carried out on a sample of blood provided by 'Nala', a healthy five-year-old German shepherd living in Sydney, and published in the journal GigaScience.

"One of the most common health problems affecting German shepherds is canine hip dysplasia, which is a painful condition that can restrict their mobility," explained study author Professor Bill Ballard, an evolutionary biologist at the UNSW.
"Because German shepherds make such good working dogs, there has been a lot of money spent looking into the causes and predictors of this problem. When working dogs – such as those trained to work with police or to help people with disabilities – end up getting hip dysplasia, then that's a lot of lost time and money that has gone into the training of that dog."
He continued: "Now that we have the genome, we can determine much earlier in life whether the dog is likely to develop the condition. And over time, it will enable us to develop a breeding program to reduce hip dysplasia in future generations."
Nala is described in the paper as "an easy-going and approachable 5.5-year-old," selected because she was free of all known genetic diseases, including no sign of hip dysplasia. She was chosen for the study by TV and radio vet Dr Robert Zammit, who Professor Ballard says has amassed X-rays and blood samples of more than 600 German shepherds.
"Now we'll be able to look at those hip x-rays and all the DNA of those dogs and compare them back to this healthy reference female," Professor Ballard says.