Lucy's Law bans third-party puppy sales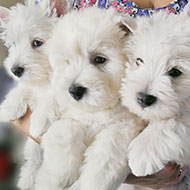 Legislation comes into force following 10-year campaign
New government legislation that bans third-party puppy and kitten sales comes into force today (6 April), meaning that anyone in England wanting to get a new puppy or kitten must now do so directly from a breeder or consider adopting from a rescue centre.

Under 'Lucy's Law', licensed dog breeders are required to show puppies interacting with their mothers in their place of birth. If a business sells puppies or kittens without a licence, they could receive an unlimited fine or be sent to prison for up to six months.

The legislation is named after Lucy, a Cavalier King Charles Spaniel, who died in 2016 after being mistreated on a puppy farm. It is the result of a 10-year grassroots campaign spearheaded by TV vet Marc Abraham and supported by a host of prominent figures, including Ricky Gervais, Brian May, Rachel Riley, and Peter Egan.

Marc Abraham said: "I'm incredibly proud to have led the 10-year campaign to ban cruel puppy and kitten dealers and to get this essential Lucy's Law legislation over the line. I'd like to give a huge thanks to UK Government for passing this law, as well as every animal-loving parliamentarian, celebrity, welfare organisation, and member of the public that supported us."

Puppy farms are located across the UK with most depending on third-party sellers or 'dealers' to distribute often sick, traumatised, unsocialised puppies which have been taken away from their mother at just a few weeks old. This can involve long-distance transportation, with the puppy or kitten suffering life-threatening medical, surgical, or behavioural problems which are passed on to unsuspecting new owners.

Animal welfare minister Zac Goldsmith commented: "Today is a significant milestone for animal welfare, and a major step towards ending cruel puppy farming and smuggling. After all the hard work of Marc Abraham and the Lucy's Law campaign, I'm so pleased that we finally have this crucial legislation which will help tackle the heart-breaking third-party trade of dogs and cats."