Blue Cross donates ventilators to the NHS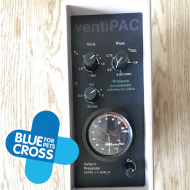 Vital equipment to be used in the fight against COVID-19

Pet charity Blue Cross has provided support to NHS hospitals during the COVID-19 pandemic, by donating two of its mechanical ventilators.
The two ventilators, which are typically used on pets under anaesthetic and in surgery at the charity's animal hospitals in London, have now been sent to NHS hospitals in London and Surrey.
The charity's donation follows countrywide calls from Defra, the Department for Health and Social Care and NHS England for veterinary practices and other organisations to donate any ventilators they can spare in order to prepare for an expected increase in patients suffering from severe respiratory problems during the COVID-19 pandemic.
Nadine Lock, chief veterinary surgeon at the Blue Cross hospital in Hammersmith, commented: "We wanted to offer our help and we understand ventilators are critically important in supporting the recovery of human patients in hospital being treated for the virus. Blue Cross teams can manually ventilate pets in surgery at our hospital in Victoria, should this be necessary."
In its call to action for UK practices, Defra said: "We are aware that many veterinary practices across the country may have NHS compatible - human ventilators that they are not using for emergency animal care. To be clear we are not asking for ventilators only suitable for animals.
"We are also cognisant of animal welfare, and that you will need to set aside ventilators for emergency veterinary care. We are therefore only asking you to contribute what you can, acknowledging the difficult balance involved."
If you think your practice may be able to assist the NHS, please click here to register your interest.