Blue Cross issues advice for pet owners during COVID-19 lockdown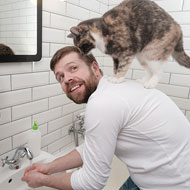 Charity offers information and ideas to keep pets happy and healthy

Following the latest government advice, pet owners across the UK are now either social distancing or self-isolating. In response to this, charity Blue Cross has published guidance for pet owners concerned about the impact that these unsettling times will have on the nation's pets.
The charity reminds people who are social distancing and can still take their dogs for a walk to keep a distance of at least two metres between themselves and others. It also asks pet owners who are self-isolating to reach out to friends and family members outside of their household, to take their dog out for them.
Blue Cross also asserts the importance of washing hands after handling pets and recommends that people who are unwell and self-isolating avoid letting other people stroke or handle their pets.
Many pets will not be receiving their usual amount of exercise. So the advice also includes some tips to help owners keep their pets healthy and mentally stimulated.These include:
encouraging pets to play with toys and treats by hiding them around the house, as well as playing fetch

providing cats with scratching posts and climbing apparatus to help them exercise

using treat toys to keep pets busy when giving them food and treats

using extra time at home to carry out regular pet training.
If pets are becoming a distraction for people working from home, they are advised to place their pets in another room for rest periods throughout the day. Blue Cross states that this will also prevent pets from becoming too 'clingy', potentially leading to dogs suffering from separation anxiety when their owners return to work.
Finally, the advice reminds pet owners that many cleaning products are toxic to pets and asks them to ensure that pets are kept away from areas being disinfected until they are completely dry.
For further details, please visit www.bluecross.org.uk