WSAVA issues reassurance for pet owners following death of dog in Hong Kong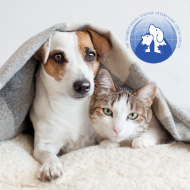 'No evidence that COVID-19 can be contracted from pets'

The WSAVA wants to reassure pet owners following the news that a dog, quarantined in Hong Kong after testing positive for SARS-CoV-2, has died.
The 17-year-old Pomeranian showed no clinical signs of COVID-19. But did have significant, unrelated health problems including cardiac and renal issues. It is believed that a combination of these issues and old age caused the death of the animal, as well as increased stress resulting from quarantine away from its home.
In a statement, the WSAVA confirmed that there is no evidence that the dog contracted COVID-19, nor that it could have passed the viral cause to another human or animal.
On 19 March, the Hong Kong Agriculture, Fisheries and Conservation Department (AFCD) announced that a second dog, a German shepherd, had also tested positive for SARS-CoV-2. This animal has no clinical signs of disease and is in quarantine along with another dog from the same household, which tested negative for SARS-CoV-2.
WSAVA President Dr Shane Ryan said: "While there is still much we don't know about COVID-19, we do know that the Pomeranian dog did not die from the virus, and the second dog is also showing no signs, either of the disease or of being able to transmit it to other pets or people. The current evidence still strongly indicates that COVID-19 cannot be contracted from pets."
The WSAVA states that its priority is supporting veterinary surgeons around the world and it urges pet owners not to panic and, instead, to continue to care for their pets and to take solace in their companionship while isolated.
The WSAVA's Scientific Committee and One Health Committee have provided advice to its members and pet owners, which can be found here.
These committees recommend that veterinary surgeons remind owners to:
keep their pets with them if they are self-isolating

maintain good hygiene habits, including washing hands before and after interacting with pets

arrange care for any animals left at home should they be hospitalised

contact their local veterinary practice immediately if they have questions or concerns.