First ISFM UK feline congress a success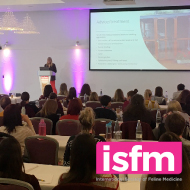 CPD weekend receives positive feedback from delegates

The first International Society of Feline Medicine (ISFM) UK Congress, which took place from 13 -14 March, was well attended by delegates and received high praise from veterinary professionals looking to make the most of their annual CPD.
ISFM UK Congress took place at the Heythrop Park Resort in the Cotswolds. It aimed to cover several important subjects that are frequently encountered by veterinary surgeons and nurses working in practice.
The congress included both veterinary and nursing streams, with talks on cytology, dentistry, behaviour, nutrition and respiratory disease, as well as two practical demonstrations of dental radiography. The exhibitor space covered two full rooms, showcasing the latest products and services.
Delegates also enjoyed the events on offer, which focused on socialisation and relaxation. A 1920s themed dinner party with live music marked the end of the first day of lectures, and on Saturday morning delegates took part in a calming yoga session.
The congress received a great deal of positive feedback from delegates. Many commented on the wide range of topics available and felt that the weekend had provided them with excellent practical advice to use in clinics.
Image (c) International Cat Care.