Deosan launches new range of teat disinfectants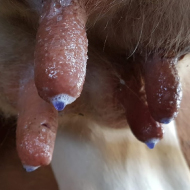 New products designed for 'all management systems'

Hygiene brand Deosan has developed a new range of pre and post milking products designed for modern dairy farms, to be distributed by Diversey.
The active ingredient in the new Target range is Chlorhexidine, which is an effective disinfectant with a strong affinity to skin, ensuring rapid bacterial uptake. The two products in the range both possess near neutral pH and increased skin care ingredients.
Deosan Target Pre-Post is a pre and post milking product designed for all housed cattle and suitable as a baseline product for outdoor cows, while Deosan Target Summer is a ready to use post-milking product specifically for cows managed outside. Both products have been designed with the specific requirements of indoor and outdoor management systems in mind.
Global application specialist at Diversey Alison Cox said: "Throughout the development of this range, we have given serious consideration to the requirements needed from a teat disinfectant during the cow's lactation. It is important your choice of product reflects the specific challenges that housing, weather and environment bring to managing udder hygiene and teat skin condition.
"In addition, we have considered carbon efficiency, residue control, animal welfare and antibiotic reduction, whilst ensuring the product offers a return on the investment for the customer. The increasing pressure to meet all of these requirements needs a new approach to hygiene solutions, and this new range has been developed to fulfil future demands."
The product range is available from distributors nationwide.