Maintaining good hand hygiene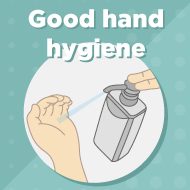 WHO advice for preventing infection

The World Health Organisation (WHO) is advising everyone to regularly and thoroughly clean their hands in order to reduce the spread of the COVID-19 virus.
The guidance states that washing your hands properly should take between 20 and 30 seconds, and should be done more often than usual, particularly after sneezing, coughing, blowing your nose or after being in public spaces where other people are doing so.
Hands should be washed with soap and water – or alcohol-based rub if this is all you have access to – and dried thoroughly afterwards.
The organisation also emphasises the importance of avoiding touching your face as this can transfer the infection to your eyes, nose and mouth, increasing the chance of the virus entering your body.
The WHO has produced two posters on hand washing and rubbing with images, which provide a step-by-step guide on how to properly wash hands.
For more information please visit the WHO website at www.who.int