New initiative to help vets take action against strangles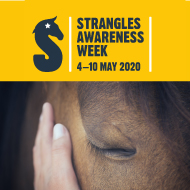 Alliance aims to end stigma around infection

A new online pledge, launched today at the National Equine Forum, will allow veterinary surgeons and professionals who work with horses to show their commitment to tackling the stigma that surrounds strangles.
The Vets & Professionals Pledge is a voluntary commitment to normalising discussion of strangles with clients and directing them to further advice and guidance. As well as emphasising the importance of biosecurity and good hygiene practices.
This joins the other existing pledges for yard managers and horse owners, launched by Redwings Horse Sanctuary in November 2018, which now have over 1,080 sign-ups.
Those who pledge will receive:
a certificate in recognition of their support

regular emails offering support and guidance on maintaining their pledge

research and information on the disease and its outbreaks

relevant announcements from other strangles-related initiatives in the UK.
Andie Vilela, Redwings Horse Sanctuary's campaigns manager, said: "We know that when horse owners want advice about Strangles, they often look towards a vet or a trusted professional. With the launch of this new Pledge, we hope to provide them with the additional tools they need to give that vital support for their clients and maximise their influence to prompt more conversations around biosecurity so we can tackle this disabling stigma."
The launch of the pledge coincides with the announcement of Strangles Awareness Week – a new national week of action created by multiple equine-focused organisations including Redwings Horse Sanctuary, the Animal Health Trust, Scotland's Rural College (SRUC) and the British Horse Society.
Strangles Awareness Week will take place from 4-10 May 2020 and will encourage owners and professionals to share their knowledge and experiences through a series of online activities and events.
For further information about either the pledges or Strangles Awareness Week, please visit the Stamp Out Strangles webpage.