Welsh government launches new scheme to help local wildlife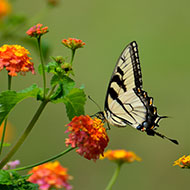 Encourages local communities to create spaces for nature

The Welsh government has launched a major new scheme in partnership with the Keep Wales Tidy charity, which aims to tackle the decline in nature within the country.
The 'Local Places for Nature' scheme will provide more than 800 pre-paid 'Starter packages' to communities and organisations across Wales. These packages include resources to aid in the creation of areas which support local wildlife, including items such as:
native and nectar-rich plants and seeds

bug and bee hotels

peat-free compost

fruit trees

gardening tools.
The scheme also has 66 'Development packages' available to help ambitious community based organisations develop larger-scale projects such as a sustainable urban drainage scheme, a community food garden or a wildlife garden.
According to the Keep Wales Tidy website, one in six species are currently under threat of extinction in Wales. This new initiative aims to "create, restore and enhance hundreds of habitats across the country" and forms part of a wider £5m government fund committed to restoring nature in local communities.
Groups of all sorts are encouraged to apply to receive a pack, whether a community council, volunteer group, a place of worship or a resident's association – though permission from the landowner is required.
Lesley Griffiths, Minister for Environment, Energy and Rural Affairs said: "The latest evidence shows biodiversity in Wales is declining. Since 1970 there is less wildlife and in fewer places. If we are going to tackle the nature crisis we need our ecosystems to be as resilient as possible. We all need to act and we need to act now.
"I know the enthusiasm exists right across Wales to help nature's recovery. There is so much great work already going on but people often tell me they don't know where to start or where to get advice and support.
"I'm delighted, therefore, to launch 'Local Places for Nature', part of our wider commitment to making it easy for everyone to protect, restore and enhance the wildlife on our doorsteps and all around us."
Applications close on Friday 6 March at noon. For further information please visit the Keep Wales Tidy website.