Vets in the Community launches new mobile clinic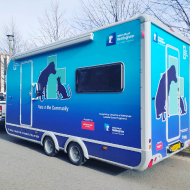 Student-led charity broadens its reach

Vets in the Community, a Nottingham charity which provides free veterinary care for homeless people's pets, is launching a new mobile clinic to improve access to their services across the city.
Set up by students from the University of Nottingham's School of Veterinary Medicine and Science (SVMS), Vets in the Community runs fortnightly clinics in the city centre, offering free vaccinations, health checks, micro-chipping and flea and worm treatments for pets of the homeless and vulnerably-housed people.
The clinics are run by a committee of SVMS students and veterinary nursing students from Nottingham Trent University, under the supervision of staff members.
This new mobile clinic will travel throughout Nottingham providing greater access to free routine veterinary care. It took staff and students two years to raise the £30,000 needed to fund the trailer, which has been purpose-built to allow the team to provide high quality care from any location.
Dr Jenny Stavisky, a clinical assistant professor in the University's School of Veterinary Medicine and Science, said: "Pet ownership is a common bond and opens a conversation with some of the most marginalised people in our society. Since its launch, we have worked hard to make the clinic a welcoming space.
"Now, thanks to the tireless work from our team and their years of planning and fundraising, we have been able to buy this mobile clinic, which will mean we can take these sessions out on the road and allow us to reach even more people in need.
"We hope that it may allow us to link up our service in the future with existing medical outreach initiatives for people, so that both pets and owners can be helped together."
Images (c) Vets in the Community.