Survey shows half of vet students in part-time work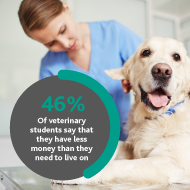 BVA/AVA findings highlight concerns of current student body

A UK and Ireland-wide survey has revealed that half of veterinary students now use part-time work to supplement their total income.

Some 965 students responded to the British Veterinary Association (BVA)/Association of Veterinary Students (AVS) survey, which aims to determine the issues and concerns of the current veterinary student body.

The findings, presented over the weekend at the annual AVS Congress, reveal a marked increase in students in part-time work. The figures show 50 per cent are currently in part-time work, compared with 38 per cent in 2016, and 25 per cent in 2012.

The findings also highlight significant concern over living expenses, with 46 per cent of veterinary students saying that they have less money than they need to live on. Respondents reported an average shortfall of £2,000 per year.

These financial worries, the BVA reports, are contributing to concerns over student mental health and wellbeing. Of the students that reported mental health concerns, 68 per cent said they have felt overwhelmed during their studies, 52 per cent had experienced anxiety, and a further 35 per cent said they had suffered depression. 

BVA President, Daniella Dos Santos commented: "This survey is a really important snapshot of veterinary student life today. High levels of mental health concerns and funding gaps continue to be a significant worry and it's essential that both the vet schools and the wider veterinary community provide as much support as possible. We'll be sharing the results with the vet schools to help them help their students.
"The increasing pressure to work part-time to makes ends meet is a stark reminder that a vet degree can be really expensive. This isn't only a concern for current vet students who are facing financial hardship but it's also a significant barrier to widening participation to students from non-traditional backgrounds. It's an issue that BVA is working on with AVS, RCVS and the Vet Schools Council."

When asked about where they see themselves after graduation, 85 per cent of veterinary students said they intended to go into a role in clinical practice. A further 78 per cent stated that they felt their course was preparing them for their future careers.
When it comes to views on Extra-Mural Studies, students said that hands-on experience is their top priority when choosing placements, with 37 per cent citing cost as the biggest barrier to this.
In total, most respondents to the survey agreed that EMS enables them to explore a broad range of careers in the veterinary profession.

AVS president Katie Roberts commented: "I'm really pleased that we've got an up-to-date overview of the thoughts, concerns and aspirations of our membership population. Our new comprehensive data set on the mental health and welfare concerns of our students is concerning, as are the number of students facing financial concerns during their degree.
"However, such shocking findings will provide us with really strong, quantitative support when we work to tackle these issues over the coming months."