Nominations open for BVNA Council elections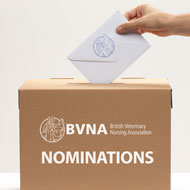 Members of all career levels urged to apply

The British Veterinary Nursing Association (BVNA) is encouraging all full members and student members to stand for election to join BVNA Council.
The BVNA aims to represent the veterinary nursing profession and provide training, education and guidance to all of its members. Council members are responsible for overseeing the administration and activities of the BVNA, calling upon their own personal strengths and experience.
This year there are five full member (RVN) seats and two student member (SVN) seats available.
Jo Hinde, BVNA president said: "Being part of the BVNA council provides a unique opportunity for you to help shape the future of veterinary nursing in the UK. It doesn't matter if you are newly qualified or have many years of experience – it also doesn't matter if you no longer work in a clinical setting – all RCVS registered nurses are welcome to apply.
"All we ask is that you commit to fulfil the role to the best of your ability and bring your passion and drive to the table. Being on council also gives you an opportunity to learn and develop a range of new skills as well as working alongside a group of dedicated individuals that aspire to making veterinary nursing the best it can be."
Speaking about her first year on council, BVNA junior vice president Jo Oakden said: "I had never been on a committee before, so I had to adjust to the way a committee works. But I have learnt a lot, with support from some amazing RVN's also on the council. I have definitely made some friends-for-life along the way.
"We are so fortunate to be able to be involved at a time where we are pushing for change, and change is happening. Now is the time to get involved to shape the profession into the sustainable and recognised profession we want it to be."
For more information, please visit the BVNA website.