Horse riders invited to take part in Medical Detection Dogs fundraiser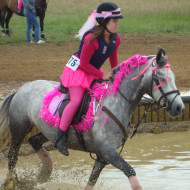 Sponsorships will fund charity's vital work

Horse riders from around the UK are being encouraged to part in Canter for a Cure this summer, to raise funds for the charity Medical Detection Dogs.
The annual event will be taking place at the Milton Keynes Eventing Centre in Buckinghamshire on Saturday 27 June. The 12-mile course will take riders across scenic countryside and bridleways, ending with a series of optional jumps including a water complex.
All sponsorship money raised by participants will go towards Medical Detection Dogs, which trains both bio detection dogs and medical alert assistance dogs.
Bio detection dogs can detect a variety of diseases, such as cancer, malaria and Parkinson's. This research could help scientists and medical professionals to develop faster, cheaper, non-invasive methods of diagnosis.
Medical alert assistance dogs support people with complex health conditions such as Type one diabetes, PoTS and severe allergies – warning them when a potentially life-threatening episode is nearby and helping them to take preventative measures sooner.
According to Medical Detection Dogs, it takes £29,000 to train each of these dogs and the charity receives no government funding, relying entirely on donations and fundraising.
Claire Guest, CEO of Medical Detection Dogs and a keen horse rider, said: "We are so thankful to run this event as it's a brilliant way to bring two sets of animal lovers together that fit so naturally.
"The money raised makes a real difference to our world-leading research and helps us continue to train dogs to use their incredible noses to detect a list of conditions and diseases that is growing all the time. Their potential is endless."
For more information, visit the Medical Detection Dogs website.
Image (c) Medical Detection Dogs.