Cats Protection announces fundraiser for homeless cats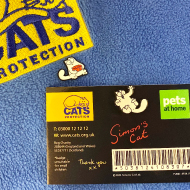 Weekend event to take place across the UK

Cats Protection is working with retailer Pets at Home to raise funds for the UK's homeless cats, in a three-day event being held at the end of March.
Between Friday 27 and Sunday 29 March, pet lovers nationwide who visit Pets at Home stores will be able to purchase special edition Simon's Cat pin badges or make a donation at the tills.
The event is organised by animal rescue and rehoming charity Support Adoption For Pets (SAFP), established by Pets at Home. This is the eighth time the fundraiser has taken place and in total, it has raised £328,000 over the years for homeless cats in the UK.
In previous years, Cats Protection branches and centres have attended select stores, providing information on cat care and adoption and holding additional fundraisers across the weekend, including tombolas and bake sales.
Richard Howard, Cats Protection's corporate partnerships manager said: "We are very grateful for the support of Pets at Home shoppers because the funds raised help us to provide essential food, veterinary care, neutering and rehoming for the thousands of unwanted cats that come through our care each year.
"I hope kind pet lovers will visit their local store to show their support because every pound donated helps us to guarantee a brighter future for homeless felines."
Simon Tofield, creator of Simon's Cat said: "As a cat lover, the wonderful work of Cats Protection is something I am very enthusiastic about. This is the sixth year we have provided a design for the fundraising weekend and I really hope that people will help to raise lots of money for the continued welfare of our feline friends."
Image (c) Cats Protection.