Agriculture bill should restrict lower animal welfare imports, says RSPCA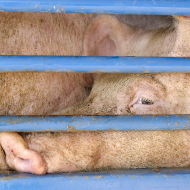 More support needed for UK farmers

The RSPCA is urging the UK Government to include restrictions on imports of farm animal products produced to lower welfare standards in the new Agriculture Bill.
Providing evidence at the agriculture bill committee on Tuesday, the charity argued against the prospect of trade deals allowing food imports which would be illegal to produce in the UK.
Assistant director of public affairs at the RSPCA David Bowles said: "While the RSPCA is delighted the Government will be supporting farmers to reach higher welfare standards, it's essential that restrictions on lower welfare imports are written into the bills at the same time."
Mr Bowles warned that, without these restrictions, cheaper food produced to lower welfare standards than are allowed in the UK would be let in and sold on shelves, threatening farmers' livelihoods.
He explained: "For example, 55 per cent of the pork and bacon we eat is imported. The USA still uses sow stalls (illegal in the UK), so if we import pig products from there, we'll be opening up the door to cheaper imports which are produced to far lower welfare standards. That's not what the consumer wants."
The charity expressed its support for the new farm support system. It hopes that financial assistance will help farmers to deliver higher welfare standards.
Mr Bowles continued: "This is a very exciting time for farmers. Not only are there particular opportunities to establish base welfare standards in markets for sheep, chicken, beef and dairy, but also in other areas. For example zero per cent of ducks have access to full body water, it's a tragedy for ducks in the UK.
"As we find ourselves at a crossroads of animal welfare, it is so important we get this right to safeguard our farmers and to ensure the public can continue to access food produced to high welfare standards."