Novel cat rehoming centre set to open in Harrow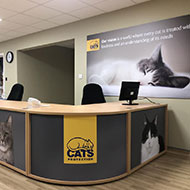 Centre specifically designed to reduce stress

An innovative rehoming centre set to benefit London's cats and stressed out strays is opening in Harrow next month.

Leading feline welfare charity Cats Protection has converted a former warehouse into a state-of-the-art 'wellness haven' that can house up to 600 needy and abandoned urban cats annually.

Opening on Saturday 14 March, the centre has been specifically designed to minimise stress; from spacious enclosures heated to a constant 21 degrees and waist-high walls to prevent cats seeing each other.

Feline residents will also be treated to comfy beds with blankets, enrichment toys, feeding stations and special resting perches designed to help them feel safe and secure. Furthermore, anti-anxiety plugins and relaxing music will be available for the most anxious cats.

"Harrow Homing Centre has been specifically designed to limit how much cats in care see other cats, so reducing stress whilst they wait for their forever home," explained Daniel Cummings, Cats Protection's behaviour manager.

"Cats are solitary, territorial animals. They like to have their own space away from other cats that they are not socially bonded to. As such, cats in shelters can have increased levels of stress due to the proximity of other cats as it is contrary to their natural behaviour."

He continued: "Increased stress can lead to the development of behavioural and medical problems, which is why Cats Protection does everything in its power to reduce stress for cats in our care. Not only does it improve their welfare, but with the cats feeling less stressed they are more likely to respond better to potential adopters and improve their chances of being rehomed."

The centre has also been designed with the environment in mind. Besides being repurposed from an existing building, it also incorporates a variety of green credentials including dropped ceilings to provide greater energy efficiency and an electric branded van for transporting the cats.

Cats Protection hopes that Harrow Homing Centre will ease the burden on the charity's other London centres in Mitcham and North London, and help people in Harrow and the surrounding area find their perfect pet.

"Our existing London centres do a fantastic job giving unwanted and abandoned cats a second chance in life, but sadly there are many more cats in need," said fundraising manager Hannah Ashwell. "This new homing centre will take in cats from the local Harrow area, providing the care they need before finding a happy new home nearby."

Cats Protection needs to raise £6,000 to cover the cost of furnishing the pens with beds, feeding bowls and enrichment toys. To make a donation, please visit the charity's JustGiving page.
Image (C) Cats Protection.