Basking sharks travel to familiar feeding sites in family groups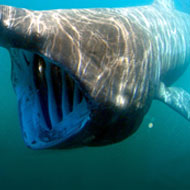 Study sheds new light on migration routes of sharks

A new study from the University of Aberdeen has revealed that basking sharks prefer to travel migratory routes in groups of extended family.
Often sighted near the coast, basking sharks have been snown to cross ocean basins and equatorial regions. It was previously believed that they moved into warmer waters seeking plankton in unrelated groups, but genetic sampling of shark aggregations has shown otherwise.
Scientists built up a register of more than 400 DNA profiles by swabbing the skin mucus of free-swimming sharks at key sites in the Northeast Atlantic during the summer months.
Using this register of genetic profiles, the research teams were able to identify individual basking sharks when they arrived to feed. Some of these sharks were seen multiple times within the same season, and then again in following years, sometimes on roughly the same date and in locations only kilometres apart.
According to the study, widespread, regular sampling revealed basking shark groups consist of individuals more related to each other than the rest of the population, indicating a tendency to travel as extended family parties following prescribed seasonal migration routes.
"Perhaps relatives hang out together, which could facilitate learning migration routes and encourage other cooperative behaviours," says study co-lead Dr Catherine Jones of the University of Aberdeen, "This means there's more going on in basking shark aggregations than first appears, in that they don't fit the shark stereotype of a lonesome independent predator."
The study estimated the basking shark population size to be less than 10,000 in Northeast Atlantic waters. The species is also particularly vulnerable to environmental change, which could be exacerbated by the loss of important genetic differences carried by kin groups. The authors state that continued genetic sampling at key sites is an essential monitoring tool in basking shark conservation.