SAVSNET reports potential outbreak of vomiting in dogs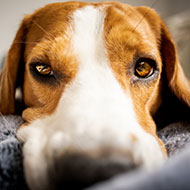 Organisation asking for help to collect data

The Small Animal Veterinary Surveillance Network (SAVSNET) has announced multiple reports of acute onset prolific vomiting in dogs (five or more episodes in a 12-hour period) in various parts of the UK.
Affected dogs are vomiting more frequently than is typically seen with canine gastroenteritis, but will typically make a full recovery with routine symptomatic veterinary therapy.
There is no known risk to humans, but some 'anecdotal evidence' suggests that affected dogs can transmit the disease to other dogs. SAVSNET is urging owners and vets to limit contact between affected and unaffected dogs, and manage suspected cases with caution.
SAVSNET states that it is currently unknown whether this is the result of a specific virus or bacteria, or whether it is part of normal seasonal variation. Both vaccinated and unvaccinated dogs can be affected.
According to SAVSNET, symptoms include:
Vomiting: Unusual for its frequency, forcefulness and relentlessness (roughly every ten minutes). The dog typically vomits four to eight times. Sometimes the vomiting stops for periods – such as overnight – and starts again. Often dogs have vomited after taking water at this time
Anorexia/pica Affected dogs are reluctant to take food for between two and five days. This notable clinical sign is unusual in that it persists after the vomiting has stopped
Lethargy: Some dogs have been lethargic for some two or three days after onset of vomiting
Diarrhoea: The majority of dogs affected have had 'gravy-like' diarrhoea
Other clinical signs: Dogs have, surprisingly, not been drooling, and have been normothermic on assessment of rectal temperature, however, reports say that temperatures have perhaps been on the cooler end of the range. Rectal exams have shown faeces to be scant, and pasty light brown or normal in colour, with no blood. Many affected dogs have had a slow capillary refill time but pink mucous membranes. Heart and respiratory rates have stayed normal based on previous clinical exams.
Veterinary surgeons, nurses and dog owners seeing suspected cases are being asked to complete a questionnaire to help monitor the situation. Any owners concerned about their dog are encouraged to consult their veterinary surgeon.