BCVSp launches podcast for animal owners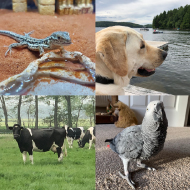 New series includes insight from veterinary specialists

The public face of the British College of Veterinary Specialists (BCVSp), Your Vet Specialist, has launched a new podcast aimed at animal owners. The charity aims to provide transparent advice for animals owners, helping them to make informed choices on veterinary care for their animals.
The Speak to a Vet Specialist Podcast, which is available now, is designed to give animal owners an insight into the role of a veterinary specialist, and the work that they do with primary practice veterinary professionals to provide specialist care and treatment for pets, horses and farm stock.
According to BCVSp, primary practitioners can direct clients to this useful resource when further information is required on a specific topic.
BCVSp trustee Myra Forster-van Hijfte is responsible for Your Vet Specialist's public outreach programme. She commented: "Podcasts are a great addition to our website, giving animal owners a convenient and highly engaging way to learn more about the veterinary specialist's role.
"The advantage of audible platforms is that they enable content to be accessed more or less wherever you are or what you are doing. We hope our listeners will enjoy our first series as much as the team did making them."
In the first episode of the series BCVSp Trustee James Swann speaks to Dr Rosanne Jepson, a specialist in internal medicine in dogs and cats. The episode focuses on dialysis in dogs and cats, with insight from Dr Jepson on why this might be necessary for treatment of kidney disease in pets and the ethics of performing dialysis on animals.
Image (c) BCVSp