Marek's disease and avian influenza vaccine developed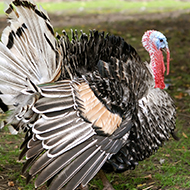 Gene-editing technique faster than previous methods

A vaccine that offers birds protection against Marek's disease and avian influenza has been developed by scientists at The Pirbright Institute.

Writing in the journal Vaccines, scientists describe how they used a gene-editing technique (CRISPR/Cas9 ) to insert avian influenza into the turkey herpesvirus (HVT) that is used in Marek's disease vaccines.

The gene codes for haemagglutinin (HA) - an influenza protein that plays a vital role in the virus' ability to infect host cells and a key target of the host immune response to block infection.

Professor Munir Iqbal, head of the Avian Influenza group at Pirbright, explains: "HVT is already widely used in vaccines against Marek's disease and can be administered to eggs, enabling automated delivery and providing birds with protection from the day they hatch.
"The additional HA gene we have incorporated will be expressed by HVT when it replicates in host cells, meaning that a single dose of vaccine induces immunity against both viruses."

Compared to previous methods, the new technique is faster, more efficient, and will reduce the time it takes for poultry producers to update vaccine strains. This will enable a quicker response to disease outbreaks and provide better protection.

Prof Iqbal continued: "The genetic engineering process we have developed using CRISPR/Cas9 is far quicker and more efficient than previous technologies, as well as being very consistent and accurate. These attributes are essential for providing fast and reliable vaccine production to protect poultry.

"Improving how we make vaccines is critical for preventing avian influenza outbreaks. Our work could help reduce the spread of disease between birds and reduce the risk of infection for people who work closely with poultry."