Canine cancer vaccine trial gets underway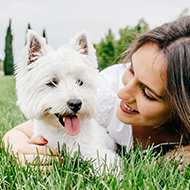 Study is the largest of its kind in the history of veterinary medicine
One of the largest clinical trials conducted to date for canine cancer is currently underway in the United States.

Researchers from the University of California, Colorado State University and the University of Wisconsin are participating in the Vaccination Against Canine Cancer Study (VACCS trial) to assess a new vaccine strategy for the prevention, rather than the treatment, of cancer in dogs.

Scientists hope that, if the vaccine works, it could provide important justification for exploring a similar approach in humans.

David Vail, a professor and board-certified oncologist at the University of Wisconsin–Madison School of Veterinary Medicine, said: "We're testing a totally novel way of creating an anti-cancer immune response. The holy grail would be to prevent cancer as opposed to waiting for it to start and then treating it."

The preventative cancer vaccine works similarly to how an influenza vaccine supports the body's ability to fight flu. I.e., "to have the immune system primed such that if a cancer cell develops, it will attack," said Vail.

With over 800 dogs participating in the trial, the study is the largest of its kind conducted to date, and in the history of veterinary medicine.

Professor Stephen Johnston from Arizona State University, who developed the vaccine, said: "The vaccine may not be effective, but this is probably the only approach to this type of vaccine, so we feel we have to try it. The implications of success would be quite large — for dogs and people."

The vaccine is designed to target some 30 abnormal proteins found on the surface of cancer cells. These proteins, which are the result of incorrectly-coded RNA, are generally only found in patients with cancer.

Scientists hope that by vaccinating healthy patients with these proteins, together with a substance that stimulates an immune response, the vaccine could serve as a universal defender against cancer by "turning on" the immune system.

The vaccine will target several cancers common to dogs, including lymphoma, osteosarcoma, hemangiosarcoma and mastocytomas.

Participating dogs must be aged between six and 10 years, with no previous history of cancer. The dogs will receive either a series of inoculations or a placebo and will live at home while being checked two-to-three times a year, for five years after enrolment.

Researchers have agreed to cover the costs associated with diagnostics and treatment of any cancers that dogs develop, whether or not they are receiving a vaccine or placebo.