Labrador retriever named Britain's 'top dog'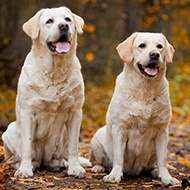 Kennel Club figures show rise in popularity of continental breeds

The Labrador retriever has been named Britain's 'top dog' in the Kennel Club's list of most popular dog breeds.

Figures released by the Kennel Club show that breeds from across the continent are experiencing a dramatic rise in popularity, while populations of native British breeds are falling.

The Labrador tops the list of the UK's favourite breeds, followed by the French bulldog, the cocker spaniel and the bulldog, respectively. The dachshund (up 197 per cent), the Pomeranian (up 63 per cent) and the chow-chow (up 64 per cent) are among the 10 breeds whose numbers have risen dramatically in recent years.

Iconic British breeds that used to feature in the top 10, including the boxer, the Staffie and the West Highland white terrier, have been pushed aside in favour of the more in-vogue French bulldog, dachshund and miniature schnauzer.

Television series The Crown, however, is seemingly having a positive impact on one historic native breed - the Pembroke Welsh Corgi - which has seen a staggering 98 per cent rise in registrations since 2015.

Meanwhile, the pointer, one of Britain's oldest native dog breeds, has seen its numbers tumble to historic lows. By the end of the year, pointers are estimated to number around 436 registrations, which could see the breed move for the first time onto the Kennel Club's 'At watch list.'

In light of these findings, the Kennel Club is calling on prospective dog owners to consider all 221 breeds to find the right puppy for them.

Kennel Club spokesperson Bill Lambert said: "People simply forget there are so many different dog breeds, with different personalities and characteristics, and it's not just the popular, well-known ones that make a great match for our varying lifestyles. These latest figures show that whilst some historic native breeds like the corgi are having a revival, others continue to fall rapidly in popularity and are genuinely at risk of disappearing.

"While we're lucky to have such diversity amongst our canine companions, it is worrying that old favourites like the pointer and Parson Russell terrier are dropping in numbers to historical lows. We urge people to make sure they understand the breed and its characteristics before they make a decision to buy or rescue a dog, and to spend time researching the wide variety of breeds we are lucky to have in this country, to make sure they get the right one for them."