Christmas cooking fat can be fatal for birds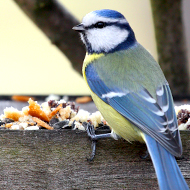 RSPB reminds public which fats are beneficial

With Christmas fast approaching, the RSPB is reminding people not to put out cooking fat from their roast dinners for garden birds, as it can be damaging to their health and well-being.
As natural food sources and insects are harder to find in the winter months, leaving out leftover Christmas cake or mince pie crumbs is a great way to provide a high-energy food source for birds. But overly salty foods and cooked turkey fat can be dangerous.
RSPB wildlife advisor Katie Nethercoat says: "Many people wrongly believe that leaving cooked turkey fat outside is beneficial for birds, but in fact it can have disastrous effects… Only pure fats such as lard and suet should be used to make homemade fat balls which will give birds the energy and nutrients to survive the cold winter months."
The consistency of cooled fat mixed with roasted meat juices is prone to smearing, and would interfere greatly with waterproofing and insulation if it were to spread over a bird's feathers. If the fat is kept in a warm kitchen before being put outside it can turn rancid, which facilitates the growth of food poisoning bacteria such as salmonella. This can be fatal to birds in the same way it is to people.
If nature lovers would like to make a bird friendly Christmas cake, the RSPB suggests mixing bird seed, nuts and raisins together with lard, squashing it in and around a pinecone, then hanging it from a suitable tree with string. Leaving treats like this out will encourage birds such as robins, wrens and redwings to visit your garden during winter.