Detection dog helps in search for bushfire victims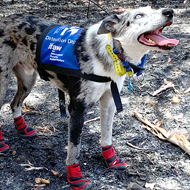 Bear is trained to detect live koalas through the sent of their fur

A detection dog called Bear has been helping to locate and rescue koalas affected by the deadly bushfires in Australia.

Bear is part of a team at the Detection Dogs for Conservation Centre at the University of the Sunshine Coast and is trained to find live koalas through the sent of their fur.

In recent days, Bear has been helping the International Fund for Animal Welfare (IFAW) sniff-out koalas in the Northern Rivers region. The team searched an Indigenous Protected Area, Ngunya Jargoon, thought to be home to some 20-40 koalas.

Before the fire, the 1000-hectare of woodlands, rainforest and eucalypts provided a refuge for the iconic species affected by nearby development. Now, according to the IFAW, the area is a 'blackened, smouldering crematorium'. 

With up to 30km winds, the conditions were against Bear and made it difficult for him to identify the exact location of the koalas. He did, however, indicate their presence at various sites, meaning there are still live koalas in the area.

IFAW supports a veterinary nurse at rehabilitation organisation, Friends of the Koala, who provides critical onsite treatment and care to sick, injured and orphaned koalas. IFAW is also providing the team with fire safety equipment and veterinary supplies to help manage the influx of koalas requiring treatment for burns, smoke inhalation and dehydration.
IFAW's wildlife campaigner, Josey Sharrad, said: "Now, more than ever, saving individual koalas is critical. With such an intense start to the bushfire season, it will be many weeks and months before some of these fires are out. All the while wildlife will continue to need to be rescued and treated and may remain in care for some time. The road to recovery will be long."

Ros Irwin, President of Friends of the Koala, added: "The fires in the Northern Rivers have been so extensive that we fear hundreds of koalas may have been lost. We are on call and expect to receive more sick and injured koalas in the coming days and weeks. Every animal coming in, even before the fires, was dehydrated and malnourished due to the drought. 

"We are standing by with specially-trained volunteers ready to go in and are working alongside the Rural Fire Service, National Parks and Forestry Corporation who have all been wonderfully supportive."
Image (C) IFAW.