Commitment to evidence-based veterinary medicine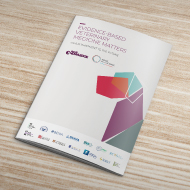 Veterinary institutions sign up to landmark concordat
Fifteen of the major UK member organisations, veterinary schools and policy-making bodies, have joined forces to affirm their commitment to veterinary medicine based on sound scientific principles, in a new landmark publication produced by RCVS Knowledge and the charity Sense about Science.

Evidence-Based Veterinary Medicine Matters: Our Commitment to the Future represents the first time this broad and influential group have formally united in support of a single issue. This collaboration is testament to the importance that veterinary organisations across the profession place on the use of evidence to enhance all types of veterinary medicine.

The publication serves to demonstrate the profound and wide-ranging impact that evidence can have – and has had – on animal health and welfare. It also provides a convincing rationale for all veterinary professionals to contribute to the evidence base and put evidence into practice, to the benefit of animals, owners and veterinary teams themselves.

The commitment is set in the context of 14 case studies that showcase the impact of standout veterinary research and evidence in the 20th and 21st centuries. Spanning small animal, farm, equine, nursing, animal welfare and agriculture, the case studies show that different types of evidence have been vital to significant steps forward in veterinary medicine.

Evidence has been at the heart of the eradication of the cattle disease rinderpest, successful strategies to prevent bird flu, and the rapid and accurate diagnosis of colic – one of the most common causes of death in horses.

Evidence has also been core to the development of new techniques to treat bulldogs with breathing problems, new methods to reduce seizures in dogs with epilepsy, and faster means of detecting antimicrobial resistance, among many other valuable advances.

In their commitment, the signatories state: 'When rigorous research underpins medical decisions, adverse events can be minimised, and patient outcomes can be improved. We believe evidence-based veterinary medicine reinforces the sound scientific principles of the profession and strengthens the commitment to put animal health and welfare at the forefront of all we do'.