Pets in running for national survivor award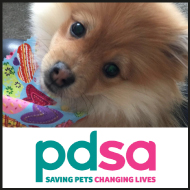 Six finalists battled against the odds to make miraculous recoveries
A puppy farm victim left almost paralysed and a duck that survived a fox attack are among six 'miracle pets' in the running for the PDSA's Pet Survivor of the Year award.

Entries were received from across the UK for the award, which pays recognition pets who have survived against the odds and made miraculous recoveries. The six finalists were selected by a judging panel including television presenter Michaela Strachan, vet and television presenter Judy Puddifoot and Love Island star Lady McDermott.

Michaela Strachan said: "All of these stories of survival against the odds are so heart-warming. Choosing just six finalists was really tough. The pets' fight for life and their owners love, support and incredible devotion is truly remarkable."

Judy Puddifoot added: "It was an honour to judge such amazing stories, many of whom went through extensive vet treatment following incredibly traumatic experiences. I wish I could've given all the pets a prize!"

The finalists include a dog who pulled through an aggressive type of spleen cancer, an elderly feline who developed septic peritonitis, and a fox terrier who suffered a ferocious attack by a larger dog. They also include Woody, a five-month-old kitten, who arrived home with a missing tail and deep slash to his abdomen.

PDSA veterinary nurse Nina Downing said: "All of this year's finalists represent exactly what our Pet Survivor competition is all about. Their incredible stories show what an important place our pets hold within our families. Everyone involved with their care have demonstrated true devotion to help support these pets fight for their life."

The public can vote for their favourite pet survivor and watch the pet's inspiring stories at pdsa.org.uk/petsurvivor.