Report highlights crucial role of vets to One Health agenda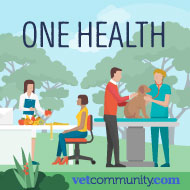 One Health in Action report marks One Health Day 2019

The British Veterinary Association (BVA) has launched a 'first of its kind' report highlighting the crucial role of vets to the One Health agenda.

The One Health in Action report brings together experts from animal and human medicine, alongside environmental organisations, to tackle global issues as varied as mental health and antimicrobial resistance.
Launched to mark One Health Day on November 3, it has been broken down into six major themes:

mental health and wellbeing
antimicrobial resistance
zoonoses
non-communicable diseases
environmental and climate change
injuries.
Each section includes three case studies provided by contributors from a variety of professional organisations, including The Wildlife Trust, Animal and Plant Health Agency, Veterinary Medicines Directorate, Royal College of Nursing, National Trust, PDSA and the British Dental Association.
The report also includes a forward by BVA senior vice president Doherty, who chairs the UK One Health Coordination Group.
"One Health is something that is close to my heart and an area that I have been involved in for a long time," he said. "I am very proud to present the BVA's One Health in action report which draws on the combined experience of members of the UKOHCG and several other key stakeholders to help showcase One Health to a wider audience.
"There are ongoing global concerns around the availability of food systems, environmental damage, rising rates of mental health issues, antimicrobial resistance, ecosystem health, transboundary diseases and climate change. In order to tackle these, the need for joint working and information sharing is greater than ever."

The concept of One Health recognises that the health and wellbeing of people, animals and the environment are interconnected. In a recent Voice of the Veterinary Profession survey, however, results revealed just 11 per cent of vets understood the link.

Mr Doherty continued: "Unsurprisingly 'health' goes beyond the absence of disease in humans and can include animal health and welfare and a healthy, biodiverse environment. By working together with medics, environmental organisations and others, we can bring all of our areas of expertise into one arena to make a real difference to the world we live in.

"This report is just the beginning. We hope to see awareness to the One Health Agenda grow and for more organisations and individuals to get involved."