Blue Cross 'Vet Nurse of the Year' winner announced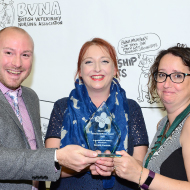 Award presented to RVNs that go the extra mile to improve pet welfare
Danielle Pountain of Pool House Veterinary Hospital, Lichfield, has won the Blue Cross 'Vet Nurse of the Year' award for going 'above and beyond' to help animals in need.

Danielle was presented with her award by Richard Casey, clinical development manager at Blue Cross, at the BVNA Congress in Telford, Shropshire. Her nominators praised her for her enthusiasm, extensive knowledge and experience, making her a role model for hard work and self-motivation.

Commenting on her award, Danielle, a deputy head nurse, said: "I was overwhelmed to receive the call that I had been selected as the Blue Cross Vet Nurse of the Year. It felt like an unbelievable honour to have been considered worthy for an award for doing a job I love to do and I felt like being recognised for my achievements and contribution to veterinary nurses, validated all of my hard work, enthusiasm and dedication. I am grateful to everyone for giving me such a great title and award."

Mr Casey said: "Danielle is a dedicated and passionate vet nurse who goes above and beyond to help pets in need. She is very highly qualified and is always seeking out the latest research evidence to support the animals in her care, as well as training the RVN's of the future. Congratulations to Danielle who has truly earned this year's award."

The Blue Cross Vet Nurse of the Year award pays recognition to the country's veterinary nurses and the support they give veterinary teams, pet owners and their animals. It is presented to a veterinary nurse who not only cares for sick and injured pets but goes the extra mile to encourage responsible pet ownership and improve pet welfare in the community.

Danielle was one of more than a hundred veterinary nurses nominated for this year's award.