Vigilance urged following first UK case of EBLV-1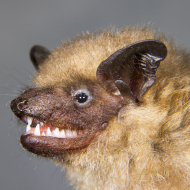 Vets asked to follow good practice advice from public health authorities
The Animal Plant and Health Agency (APHA) is calling for vigilance from veterinary surgeons following the first identification of European bat lyssavirus 1 (EBLV-1) in a native British bat.

Speaking at the Official Vet Conference 2019, APHA veterinary advisor Dr Samantha Holland urged delegates to make sure they are up-to-date with best practice advice from their respective public health agencies and the Bat Conservation Trust. She also called on anyone who comes across a dead bat to submit it to the APHA's surveillance scheme.

To date, sixteen different lyssaviruses have been identified in bats and classified into the lyssavirus genus. This includes the classical rabies virus (RABV) which is responsible for thousands of human deaths every year. Lyssavirus can be transmitted through bites and scratches, with clinical signs being almost identical to those of classical rabies virus.

Two bats native to the UK - the serotine bat and Daubenton's bat - have been shown to harbour lyssavirus at a low level. EBLV-1 is one of the most common forms of lyssavirus found in mainland Europe, with 95 per cent of bats carrying the disease being serotine bats. However, there have been regular identifications of EBLV-2 in Daubenton's bats in the UK (23 cases) since it was first identified in 1996.

Serotine bats are found in parts of South Wales and southern England and comprise less than one per cent of bats submitted to the APHA's surveillance scheme. In comparison, Daubenton's bats make up around three per cent.

Serotines, however, are considered to be more likely to come into contact with humans and pets than Daubenton's bats, owing to their habit of forging across many landscapes and taking prey from the ground. Daubenton's take their prey from bodies of water.

These large foraging areas can mean that identifying the 'home roost' for any individual identified case is difficult. Since the first identification of a serotine infected with EBLV-1 in October 2018, four more cases of EBLV1-infected serotine bats have been identified within a 20km range of the first case. The most recent was in September 2019.

While the risk to humans and pets from ELBV-1 and EBLV-2 is relatively low, Dr Holland called on vets to follow and understand good practice for the public health authorities in dealing with them and pass this advice onto clients. She said that handling bats should be avoided, but if it is necessary than strong, gardening-type gloves must be worn, or the 'spider technique' used, in which the bat is covered by a glass or jar.

She added that, in the case of bites or scratches, the wound should be cleaned immediately and the individual should seek prompt medical treatment. Vets who are presented with a dead bat are encouraged to submit it to the APHA in a 'bat pack' which they can obtain from the Bat Conservation Trust.