Study into original Veterinary Surgeons Act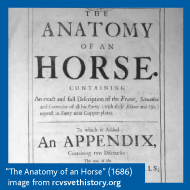 Historical archives to be scrutinised in collaborative effort

A joint doctoral initiative between RCVS Knowledge and the University of Kent will delve into the professional roots of veterinary medicine by examining archives relating to the first Veterinary Surgeons Act of 1881.

Analysing how and why the medical treatment of animals came to be professionalised, the project seeks to understand the reasons for – and effects of – the 1881 Act, which formally established the Royal College of Veterinary Surgeons' (RCVS) authority to distinguish between qualified and unqualified practitioners.

Neatly beginning in the same year as the RCVS celebrates 175 years since it was granted the foundational charter in 1844, the doctoral research will consider the following questions:
How were the interests of the RCVS and its leading members involved in the drawing up and implementation of the 1881 Act?

What was the background and status of the people who practised veterinary medicine at this time, and what was the nature of their practice?

How deliberate was the process of professionalisation, and what was its significance to the RCVS? If it was seen as important, why?

What was the experience of the RCVS following the implementation of the Act?

Was the College committed to ensuring adherence to the Act?

Did the Act lead to an improvement in the standard of veterinary education, and how did it change the role of the vet within society?

The doctorate will draw on the rich archival material maintained by RCVS Knowledge, the charity partner of the RCVS and custodian of its Historical Collections. It will be undertaken by veterinary nurse, Jane Davidson, a prominent blogger and recent appointee to the VN Council.

Known to many through the online community, #planetrvn, Jane said: "I'm very excited to be undertaking this PhD with RCVS Knowledge and the University of Kent. It's the opportunity of a lifetime to work with the newly catalogued archives."

Whether you are a historian, researcher or a layperson, you can view the Digital Collections and follow Jane's real-time updates from the PhD with the Twitter hashtag #PhDbytheSea