RCVS names Professor John Innes as chair of Fellowship Board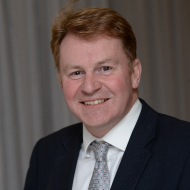 Professor John Innes has been elected chair of the 2019 RCVS Fellowship Board, replacing Professor Nick Bacon who comes to the end of his three-year term.

Professor Innes will be responsible for making sure the Fellowship progresses towards fulfilling its strategic goals, determining its ongoing strategy and objectives, and reporting to the RCVS Advancement of the Professions Committee on developments within the Fellowship.

"I am delighted to have been elected as Chair of the Fellowship Board and, as stated in my manifesto, I look forward to helping the Fellowship in its mission to become the bedrock of science and ethics within the profession," he said.

"The expansion of the Fellowship has been very welcome and I look forward to seeing the new vibrancy within our community continue to develop."
Image (C) RCVS.