Persian cats at high risk of health problems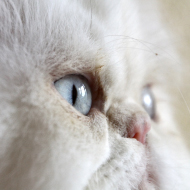 Study shows two out of three affected

Almost two thirds of an estimated 100,000 Persian cats in the UK suffer from at least one health condition, according to a large study of this breed published in Nature Scientific Reports.

The research, which was conducted by the Royal Veterinary College (RVC) in collaboration with the University of Edinburgh, revealed that hair-coat disorders (12.7%), dental disease (11.3%), overgrown nails (7.2%) and ocular discharge (5.8%) are the most common conditions diagnosed in Persian cats.

Many of these health issues may be related to the long coat and flat face that is characteristic of the breed. They represent major welfare challenges for Persian cats that should be considered by breeders and future owners.

The results of this study will help breeders to select appropriate individuals from which to breed, veterinary professionals to spot diseases earlier, and owners to ensure that they take preventive measures for common conditions in the breed. This new information will also help the public understand more about the welfare challenges relating to owning and caring for Persian cats.

Other key findings from this study were that dental disease was more common in males, while claw/nail problems were more common in females. The most common causes of death were kidney disease (23.4%) and cancer (8.5%). The average lifespan of a Persian cat is 13.5 years.

The high levels of dental and eye problems seen in Persian cats are thought to result from the brachycephalic shaped heads of these cats. Previous research has shown that this abnormal head shape has been associated with various health problems in dogs, as well as cats.
Meanwhile, the high levels of hair-coat problems seen in this study are associated with the thick and long coat of the Persian cat which is prone to tangling and matting.

The academics behind this study analysed the clinical records of 3,325 Persian cats using the RVC's VetCompass programme. This enabled them to identify health trends in the Persian cats that were treated under general veterinary care across the UK in 2013.