UK will adopt EU animal welfare standards post-Brexit, Defra minister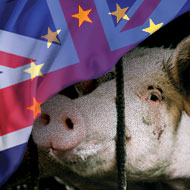 NPA says announcement has 'significant' implications for the pig sector

The UK will adopt all EU food safety, environmental and animal welfare standards after Brexit, Defra minister Lord Gardiner has said.
According to Farming UK, Lord Gardiner made the announcement during a House of Lords session on Wednesday (4 September).

Lord Gardiner stated: "We will remain global leaders in environmental protection and animal welfare standards, maintaining our high-quality produce for British consumers.
"The Withdrawal Act will transfer on to the UK statute book all EU food safety, environmental and animal welfare standards. Our current high standards, including import requirements, will apply when we leave."
UK farming leaders have been lobbying the government to provide reassurance that British food production and animal welfare standards will be upheld after the UK leaves the EU.
Responding to Lord Gardiner's comments, National Pig Association (NNPA) senior policy Ed Barker said the announcement has significant implications for the pig sector.
"This would confirm that a non-EU pork exporter to the UK would have to adhere to EU's rules on demonstrating 'ractopamine free' pork exports," he said.
Ractopamine is a beta-agonist, which promotes leanness in animals raised for meat, and is banned by many countries, including China.
"Today's announcement means that in order to export to the UK they [the US] will have to continue this. But this is not without risk…" he continued.
"The UK Government's tariffs in the event of a no-deal treats all countries the same (approximately five per cent tariffs on pork imports), meaning US exporters have massive competitive advantage (the US have a cost of production 30-40 per cent lower than EU's).
"They are likely to be able to absorb the costs of testing for ractopamine and add shipping, and still make a healthy profit at the expense of EU and UK producers - who are banned from doing a number of practices still permitted in the US."