BVNA Council election results revealed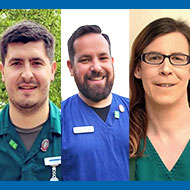 Overall voter turnout less than five per cent

The results of the 2019 BVNA Council elections have been revealed. 

This year sees three new council members and two new student council members joining BVNA Council.
Samantha Payne, Jack Pie and Matthew Wright were elected for full membership, while Charlotte Ottewill and Hilary Wood were appointed as student members.
BVNA President Wendy Nevins said: "I am thrilled we have once again had a contested election for Council. We should all be grateful to the candidates who were willing to put themselves forward for selection by the membership."
This year's election saw fewer voters than in 2018, with there overall turnout being less than five per cent.
"It was strange to see more candidates but slightly fewer voters. I do think the appetite is growing amongst Members to represent the profession," Wendy Nevins continued. "They can see the impact the BVNA has through initiatives like VN Futures, the relevance it has to them as professionals and the support it can offer them day-to-day in the workplace.
"The challenge now is to translate that into voting – something we will take a close look at in the year ahead."
Image (C) BVNA.