Ban on metaldehyde slug pellets overturned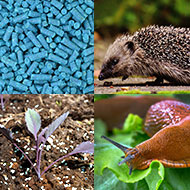 Wildlife organisations dismayed by the news
A ban on metaldehyde slug pellets has been overturned following a High Court challenge by Chiltern Farm Chemicals.

Former environment secretary Michael Gove announced a ban on outdoor use of metaldehyde slug pellets, from spring 2020.

The decision followed advice from the UK Expert Committee on Pesticides and the Health and Safety Executive, which said metaldehyde poses an unacceptable risk to birds and mammals.

According to media reports, the legal basis for the ban required Mr Gove to form his own view on the impact of the metaldehyde products on non-target species, but he did not do so.

A Defra spokesperson said: "The government has decided to withdraw and review the decision made in December 2018 to restrict the sale and use of metaldehyde products, following concerns raised about the decision-making process.

"We will retake the decision as swiftly as possible, taking account of the procedural points raised. Our priority is to protect people and the environment, and all decisions on pesticides are always based on the best available science."

Slugs cause substantial damage to plants and crops, particularly potatoes, cereals and oil seed rape. However, alternative pesticides containing ferric phosphate provide effective control of slugs and snails without the same threat to wildlife.

'Damaging to wildlife, people and pets'
Wildlife organisations responded to the news with dismay.

Fay Vass of the British Hedgehog Preservation Society commented: "We are disappointed to learn the ban on metaldehyde slug pellets for outdoor use has been overturned at the High Court on what appears to be a technicality. We hope that Defra will now swiftly follow due process and get the ban implemented again as soon as possible."

Ellie Brodie, senior policy manager at The Wildlife Trusts, added: "Metaldehyde is a toxic chemical and is damaging to wildlife as well as to dogs and cats. It is also damaging to people. Water companies spend huge sums ensuring this chemical is cleaned out of our water supply with some, such as Severn Trent Water, working with Wildlife Trust farm advisors to help farmers find alternatives and stop it getting into the food chain in the first place.

"Beyond farming, we can all help wildlife by stopping using this chemical in our gardens too."

Ecologist Hugh Warwick, speaking on behalf of Hedgehog Street, said: "The State of Britain's Hedgehogs 2018 report showed that the rural landscape is proving increasingly hostile to hedgehogs and one of the causes of this is the covering of fields with an average of 17 applications of biocide per crop.

"The brave move from the former Environment Secretary Michael Gove to remove one of these threats was applauded at the time. It is a great shame that legal action taken by an agrochemical company has erased that step forward.

"We need to work with the farming community to create a hedgehog friendly landscape if we have any hope of reversing the terrifying declines of the nation's favourite mammal."

Hedgehog Street has produced a guidance booklet for farmers, which contains advice about pesticide use.