Vets reinstated on the Shortage Occupation List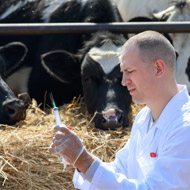 Decision is a 'huge win' for animal welfare, says BVA

The Home Office has announced that vets will be reinstated on the Shortage Occupation List, following a long and sustained campaign by veterinary organisations.

In a written statement earlier this week, Sajid Javid, who was Home Secretary at the time, said the government was accepting the recommendations of the Migration Advisory Committee (MAC).

The BVA, working with the RCVS and Defra, ran a campaign to restore vets to the list, amid concerns that an already stretched veterinary workforce may struggle to cope with increased demand for some of its services after Brexit.

About 95 per cent of vets carrying out critical public health work and animal welfare monitoring in abattoirs come from overseas - predominantly the EU.
Both the BVA and the RCVS raised concerns that an existing shortfall in the profession could be made worse after Brexit. The BVA has also warned that demand for veterinary certification and health trading services could see a dramatic increase if we leave the EU without a deal.

The concerns were laid out to the MAC in a submission produced jointly by the BVA and the RCVS. Defra supported the recommendation in a separate submission to the committee.

BVA president Simon Doherty said the decision is a "huge win for animal welfare and a resounding vote of confidence in the veterinary community".

He added: "This decisive move by the Government will make it easier to recruit into the profession and we now look forward to working with the new Defra Secretary of State Theresa Villiers to ensure we have a flexible, skilled and robust veterinary workforce that meets the UK's needs for both the immediate future and in the longer term.

"Alongside this welcome boost, the profession itself will continue to undertake work to understand and address recruitment and retention challenges both now and into the future."
RCVS president Niall Connell said he was "delighted" that the MAC's proposals had been accepted.
"Both the Royal College of Veterinary Surgeons (RCVS) and the British Veterinary Association (BVA) worked together to ensure this outcome, which will see a lowering of the immigration barriers, for example, in terms of visa requirements, for overseas veterinary surgeons who wish to live and work in the UK.
"We also considered this a vital piece of preparation for the UK leaving the EU, as around half of those registering as veterinary surgeons with the RCVS in a given year are non-UK EU nationals and we would not want to see this vital supply of veterinary talent immediately dry up should 'freedom of movement' end when the UK leaves the EU."

The necessary amendments will be made in the Autumn Immigration Rules changes.