First cohort of vet students graduate from Surrey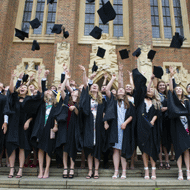 Class of 2019 represents 'new face of veterinary medicine'

The University of Surrey is celebrating the graduation of its first cohort of veterinary graduates, five years after officially opening its School of Veterinary Medicine.

Surrey's class of 2019 received their degree certificates from the renowned philanthropist Dato Dr Kim Tan, before attending an official ceremony with the RCVS president Dr Niall Connell, who welcomed them as official members of the governing body.

Head of Surrey vet school, Professor Chris Proudman said: "I am incredibly proud of all our graduating students, who continue to impress me every day with their resilience, confidence and maturity.

"At Surrey we strive to create vets who are not only highly skilled but can embrace modern technology. I am very confident that each of our students has the skills to excel in whatever field of work they choose."

The £45 million school was officially opened by Her Majesty the Queen and now has 650 students undertaking veterinary training. It offers a unique teaching model that includes intra-mural rotations. Final year students undertake clinical training placements in the veterinary workplace and are mentored by university staff and trained practice personnel.

Surrey vet students are also educated in 'one health', covering food-borne diseases such as Salmonella and E coli infections that transfer to humans in food, as well as infectious diseases such as rabies and Ebola.

According to the university, 90 per cent of this year's veterinary graduates secured employment prior to graduating, with nearly 40 per cent of these positions in veterinary organisations that partnered with Surrey vet school.

Professor Max Lu, president and vice-chancellor of the university, said: "My heartfelt congratulations to all of our graduating veterinary medicine students, and to all the staff from across the University who have helped make this possible.

"The Class of 2019 have this week made history. This cohort embodies the new face of veterinary medicine – equipped with the skills and competencies for animal health care as well as advancing the One Health agenda in a digital world; we will watch with great interest as they take the Surrey spirit of excellence and partnership into their careers."

Niall Connell, RCVS president, added: "It was a proud moment yesterday for me and the RCVS CEO Lizzie Lockett to welcome the first group of students graduating from the University of Surrey's vet school on to the Register and guide them through their professional declaration.
"The University of Surrey's veterinary curriculum is going through the accreditation process and we were very impressed with the cohort of graduates and the work the school has done to train and educate them to become veterinary surgeons."
Image © Paul Stead