One in six farm vets suffer injuries - survey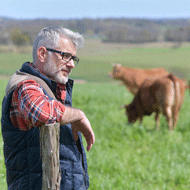 Robust health and safety procedures needed, BVA says
Vets and farmers are being urged to develop robust health and safety procedures, after a survey revealed 61 per cent of vets working with production animals suffered injuries in a 12-month period.

Equine practice and mixed practice revealed similar results, with 65 per cent and 66 per cent injured by animals respectively.

One in five production animal vets responding to BVA's Voice of the Veterinary Profession survey rated their injuries as either very or quite severe.

The most common injury was bruising caused by kicks, with 81 per cent of production animal vets who suffered injuries reporting this. Other injuries included crush injuries, lacerations, scratches and bites. Nearly a fifth of vets (19 per cent) had to take time off work as a result of their most severe injury.

BVA president Simon Doherty described his own experience of having to cease working in large animal practice after rupturing a spinal ligament while calving a heifer with a uterine torsion. He has also been stood on, kicked and suffered a broken arm whilst working with cattle, as well as experiencing back problems due to the physical aspects of repeated lambing and calvings.

"These figures show the serious risk of injury that production animal vets run in the course of their work, even when handling facilities are relatively good," he said. "Animals on a farm can be large, heavy and unpredictable, and farmers and vets up and down the country have seen colleagues injured on farms and frequently unable to work as a result."

Vets, farmers and veterinary employers are advised to reduce injuries and save lives by using health and safety assessments to minimise avoidable risks. This includes making sure facilities and restraining equipment, such as cattle crushes, pens, gates and escape routes, are safe and well-maintained.

The Health and Safety Executive (HSE), offers a guide, Farmwise, to give farmers practical advice on creating a safe environment for all workers. The British Equine Veterinary Association (BEVA) also offers guidance on workplace safety for those working with equines.